Cone Beam CT Scans | Chicago, IL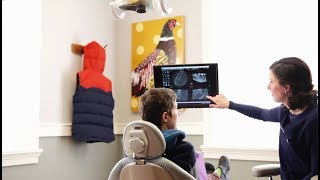 Our practice utilizes state-of-the-art, full-cranial cone-beam CT (computed tomography) technology that provides highly accurate 3-D radiographic images for the diagnosis, planning and treatment of oral surgery.
This technology provides a highly accurate 3-D radiographic image for the diagnosis, planning and treatment of orthodontics, implantology, TMJ analysis, airway assessment, oral and orthognathic surgery and other dental procedures.
Undistorted, anatomically correct views of the jaws, teeth and facial bones, along with cross-sectional (bucco-lingual), axial, coronal, sagittal, cephalometric, and panoramic views, are easily generated. Three-dimensional images enable a level of anatomical accuracy and patient care not possible with 2-D technologies.
With the addition of cone-beam CT technology in our office, our practice is committed to providing innovative, high-quality, patient care. Please call us if you have any questions: Endodontic Specialty Care Phone Number 773-792-2369.
CT Scan Reviews Chicago IL
Check back soon for testimonials from our patients about their experience with Endodontic Specialty Care. If you wish to share your own experience, visit our Write a Review page. You may also read or leave a patient review for our practice on our Google listing.
Modern Technology Gets You The Kind of Treatment You Deserve
Endodontic Specialty Care
5
out of
5
stars based on
6
CT Scans reviews.
---
Patient Testimonial by Margaret H
One of the Best Dental Experiences I have ever had. The entire staff is kind and professional and very attentive the needs of their clients. Highly Recommended !!!
- Margaret H
5

out of

5

stars
by
Margaret H
on
Patient Testimonial by elizabeth b
I could not have had a better more honest experience at the dentist. From the staff to Dr. Medina's honest analogy of the tooth and referral for next steps.
- elizabeth b
5

out of

5

stars
by
elizabeth b
on
Patient Testimonial by Lisa L
Dr and staff were knowledgeable and super helpful. I was in pain and everyone was kind. I would highly recommend this practice.
- Lisa L
5

out of

5

stars
by
Lisa L
on
Patient Testimonial by Warren (Wayne) Z
very professional clean environment. Very knowledgeable staff & excellent care by doctor. Would recommend to my entire family!
- Warren (Wayne) Z
5

out of

5

stars
by
Warren (Wayne) Z
on
Patient Testimonial by Carole S
Professional, but also very compassionate to my concerns & questions regarding the reason for my appointment. Overall I left very satisfied and would recommend Dr. Nowak & his office!
- Carole S
5

out of

5

stars
by
Carole S
on
Patient Testimonial by Gabrielle G
If I could give this office and Dr. more than 5 stars I would. I am a very tough critic and if every office was like this there would be more joy in the world. The professionalism and respect of this office cannot be overstated. I will recommend anyone who needs endodontic treatment to this office. They made a stressful situation 100 times better. I am so happy to see that there is still some fine customer service in the world. Thank you Dr. Nowak and staff!
- Gabrielle G
5

out of

5

stars
by
Gabrielle G
on